PREVENT HOME ELECTRICAL FIRES
Take simple safety steps to protect your home and your family against electrical and fire dangers.
Facts & Statistics
Home electrical fires account for an estimated 51,000 fires each year, nearly 500 deaths, more than 1,400 injuries, and $1.3 billion in property damage. Electrical distribution systems are the third leading cause of home structure fires.
Each year in the United States, arcing faults are responsible for starting more than 28,000 home fires, killing and injuring hundreds of people, and causing over $700 million in property damage.
The U.S. Consumer Product Safety Commission (CPSC) reports that electrical receptacles are involved in 5,300 fires every year, causing forty deaths and more than 100 consumer injuries.
Sixty-five percent of home fire deaths result from fires in homes with no working smoke detectors.
Electrical & Fire Safety Tips
Have your home electrical system thoroughly inspected by qualified electricians to ensure that all electrical work in the home meets the safety provisions in the NEC.

Install smoke detectors on every level of the home, inside each bedroom, and outside each sleeping area.

Ask a qualified electrician if your home would benefit from AFCI protection, especially during inspections of older homes or upgrades to electrical systems. These advanced new safety devices recognize dangerous conditions that are not detected by standard breakers.

Test smoke detectors and AFCIs monthly to ensure that they are working properly.

Establish an evacuation plan that can be used in case of an emergency, and practice with your family.

Use light bulbs that match the recommended wattage on the light fixture.

In homes with young children, install tamper resistant receptacles to prevent electrical shocks and burns.

Conduct a basic assessment of your home electrical system, electrical cords, extension cords, power plugs, and outlets.

Look for telltale signs of electrical problems such as dim and flickering lights, unusual sizzling and buzzing sounds from your electrical system, insulation and circuit breakers that trip repeatedly. Contact a qualified electrician immediately.

Use extension cords only temporarily, and never with space heaters or air conditioners.

Avoid overloading outlets. Consider having additional circuits or outlets added by a qualified electrician as needed.
FOR INFORMATION ON PORTABLE GENERATOR SAFETY click here
Many more safety tips can be found at http://esfi.org
Click on the booklet below to review dangers that may lurk in an older home.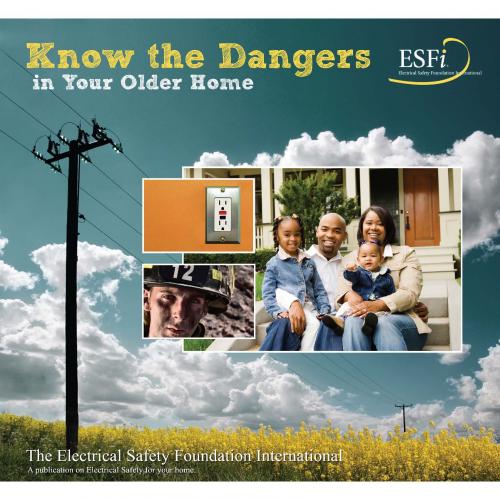 Review tips you and your family should know to keep everyone safe. Included is a list of home safety reminders such as smoke alarms, carbon monoxide (co) detectors, fire extinguishers and creating your escape plan in the event of a home fire.